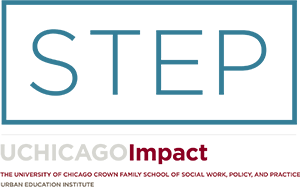 Teaching students to read is one of the hardest jobs in education and teachers report they often do not receive enough support to ensure students are on-track to reading proficiency. Through literacy intervention programming and coaching driven by student reading data, STEP (Strategic Teaching and Evaluation of Progress) provides educators with the capacity-building support needed to improve student achievement in literacy across grades K-5.
STEP offers a broad scope of support and resources to meet schools' unique literacy needs including, a research-based formative assessment, online progress monitoring,  data management, and professional learning.
STEP is offered by UChicago Impact, a not-for-profit within the University of Chicago's Crown Family School of Social Work, Policy, and Practice's Urban Education Institute. All of UChicago Impact's systems are grounded in rigorous education research and fundamental  education practices. UChicago Impact develops and distributes systems of support that are designed to foster improved school and student outcomes. UChicago Impact positions educators to use research and actionable data to inform and improve their practices in ways that promote student achievement.
CONTACT INFORMATION:
Katie Boylan
Email: katiewalsh@uchicago.edu
Manager of Partnerships and Growth
773.834.3532